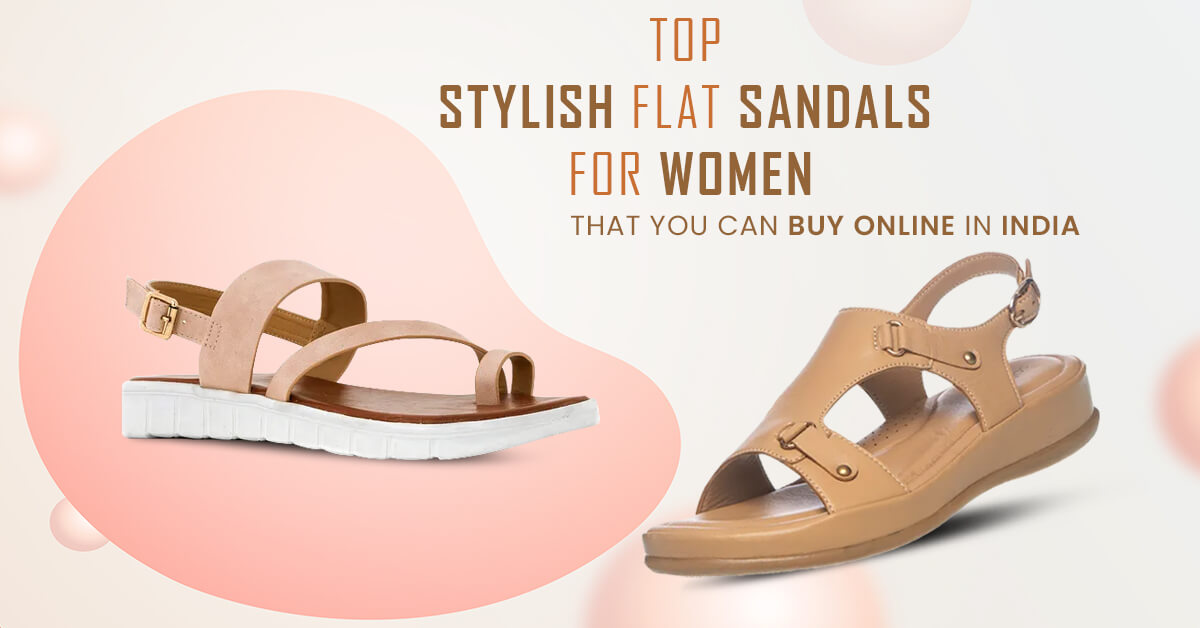 Top Stylish Flat Sandals for Women That You Can Buy Online in India
Is there anything in common between your favorite joggers, t-shirts, and a pair of stylish flat sandals for ladies? Yes, they all are equally comfortable and easy to just slide into. Be it a plan with ur besties, a sudden errand to complete or even casual outings, this footwear doesn't fail to impress.
The popular saying goes " give a girl the right shoes and she will conquer the world". Recollecting the same, a good pair of stylish flat sandals for ladies justify this statement with all its might. With most women being influenced by day-to-day changing trends, this wardrobe-essential inclined more towards being a must-have for decades.
Since this pair owns a strong fan base of its own, it's required that we understand what makes this pair that popular.
Women Stylish Flat Sandals- Why Consider Purchasing Them
If only there's a pair that's chic, comfortable, and stylish at the same time, it's a pair of women's stylish flat sandals. Even though it may seem to be unrealistic at times, this pair is easier to wear anywhere and everywhere possible. With terms such as fun, enjoyable, relaxing and trendy being terms to describe this pair, this footwear collection is certainly unique to be described so.
When it comes to other footwear options such as heels and boots, the memories are very unpleasant as compared to this category. Since we have all been talking about how this pair tends to be a wise purchase, here are some options to consider adding to your cart.
Choose from the Best Ladies Flat Shoes- Khadim
Since we have been discussing the main unique selling propositions of this pair, it's only fair if we showcase some of the best pairs one can purchase. Hence, listed below are some of the best women's stylish flat sandals to consider making a pair of your outfit of the day (OOTD).
Pro Navy Casual Floater Sandal for Women- This pair covers all boundaries when it comes to a pair that's great on comfort and high in style. With its style and contemporary functionality, this pair of ladies flat shoes awakes the Pro in you. It even showcases a soft yet tough synthetic upper that stands the test of time.

Sharon Maroon Leather Flat Sandal for Women- For all the contemporary women out there, this rugged yet stylish pair is eye-catchy from every angle. With the perfect blend of style and comfort, this pair shows how tough it can be. If you are a teacher, entrepreneur, student, or office goer, this pair is versatile enough to match any attire you put on.

Cleo Brown Casual Flat Sandal for Women- It's not only a shoe that's a part of every girl's wardrobe. It's a pair of Cleo Casual Sandals from Khadim that completes every collection. Being the perfect partner for outdoor hoppings and casual meets, it is soft cushioning allows your feet to flex in utmost comfort.

Softtouch Blue Casual Flat Sandal for Women- Keeping one's body weight in mind, this pair of stylish flat sandals for ladies showcases broad uppers to keep your feet snugly. With a cushioned bed support and right pressure points, being tired is something that doesn't exist in one's dictionary.
Keeping all these above-listed footwear options in mind, it's ok to say that flat footwear has continued its streak of being a unique, stylish, and comfortable footwear category. Hence, decoding every girl's footwear requirements, Khadim is the go-to place to get your pair today.
Khadim- WOW Yourself with Stylish Flat Sandals for Women
Since we have already mentioned how and why this pair should be an addition to one's footwear collection, Khadim understands the same. With abundant styles to choose from, it becomes a never-ending task to grab just one pair.
So pick up favorites and add the best women's stylish flat sandals from Khadim to your collection today because It's WOW. It's Khadim.