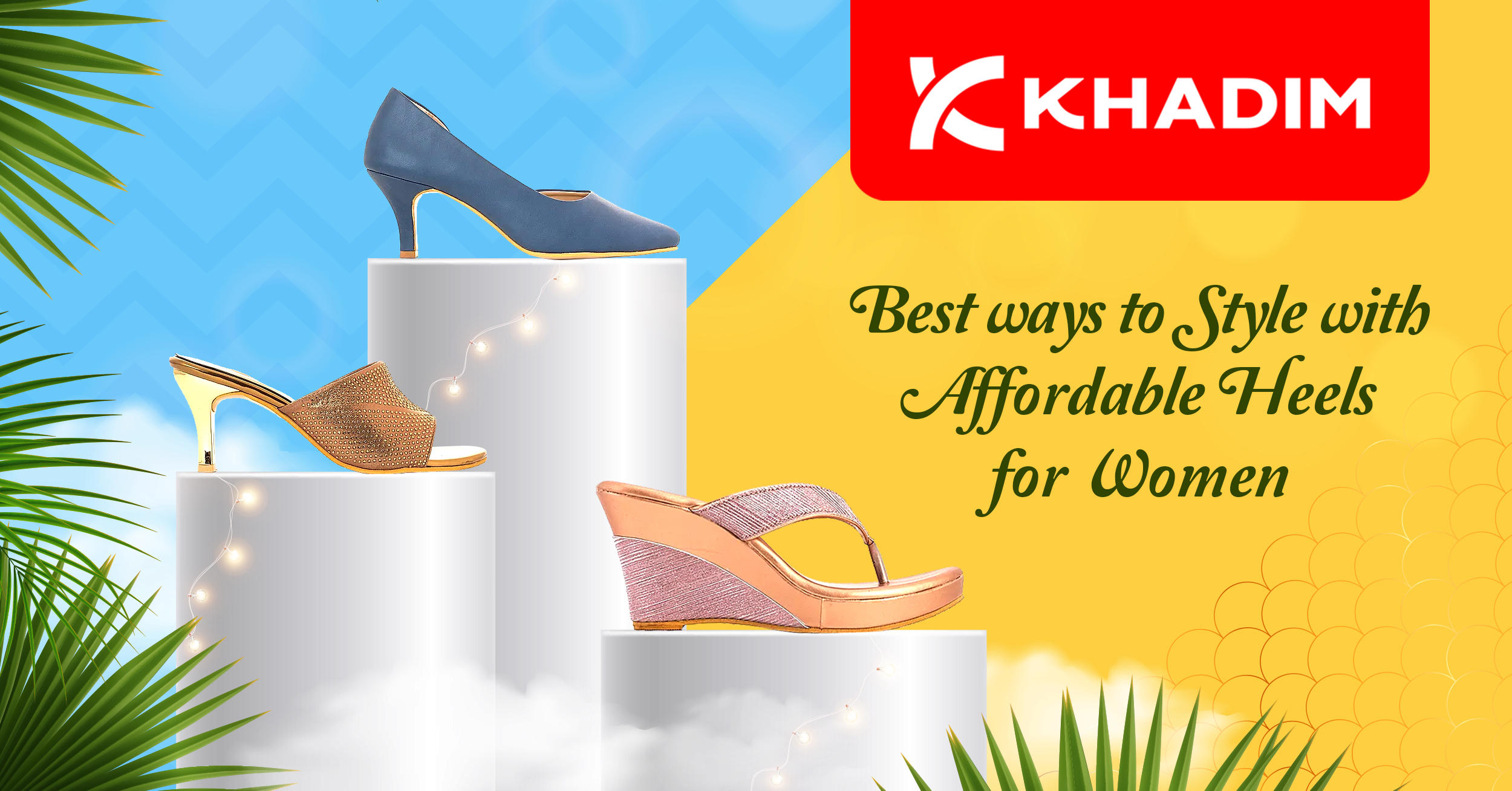 Best Ways to style with Affordable Heels for Women
Without a pair of heels, every woman's closet seems to be incomplete and empty. Talking of this footwear in particular, these add style and elegance to one's appearance. According to many surveys and studies, there's more to just wearing heels than having an eye for detail. Heels for women not only add panache to one's attire but improve one's posture during long, undisturbed walks. With a variety of options left at one's disposal, it gets harder with picking just one pair. And, with this pair blending well with any occasion, there lies even more reason to pick up more than just one at a time.
With changing times, the shift in demand for better footwear styles can be witnessed on a much larger scale. While some still choose their favorite flat footwear because they are a comfort booster, heels still stand to be less of a choice and more of an experience.
Heels- What makes them a style icon?
Heels come in multiple shapes and sizes. With the ability to elevate any outfit, heels for women make the best choice for dressier moments. Being a little different from being "too basic", this pair separates itself from the mass for good reasons.
Firstly, it ensures you look taller than expected. With one's size being directly proportional to intimidation, wearing one of these ensures you stand to be a status icon with no room for inequality.
Secondly, a good pair of heels helps take your confidence up a notch. Wearing a good pair of heels has always helped take your confidence to another level. Not only do you walk in a completely different fashion, you feel nothing less than a model walking the ramp in style.
Last, but not least, this is one such footwear for women that keeps their bodies in shape. For girls with short legs, this pair can easily make you feel a lot taller than expected.
While the explanation for why this pair gets better every day goes on, you might be looking for ways to pair this with the best from your wardrobe. As easy as this may seem to be, it does get a lot more challenging to get just the right match you're looking for.
Here are some noteworthy tips to help you get your fashion game on point.
Style Tips with Heels for Women
As subjective as this may get, this is nothing but a make-or-break scenario for many. With the right tips available at one's disposal, styling with this footwear for women becomes a lot easier.
Here are some tips that help styling heels with dresses, less difficult.
The footwear we wear, especially heels need not be of the same color as your outfit. In these cases blocking colors help you look different from the rest.

There are times when the length of a dress can be longer than usual. In such cases, choosing wedges or lace-ups tends to be a wise choice.

Looking to ace your office look or look the best amidst your girl gang? There's nothing better than a good pair of pumps. In other cases where formal attires are a must, block heels and stilettos steal the show.
Styling tips with a pair of jeans:
Talking of everyday styling, nothing beats a good pair of jeans. From a casual fit to a mandatory piece of clothing, your style can easily be pulled off with a good style match.
With jeans being worn anywhere and everywhere, black heels for women can be a choice to consider. With the help of these smart denim paired with either casual or semi-casual attire, there's no mystery behind acing your look to perfection with a monochrome pair of heels.
If block heels are something you fancy, pair them with a baggy pair of jeans to go easy throughout the day.
One important thing to note when styling is choosing the right color and texture. As easy as this may be, the process is even more complex and time-taking. Screening through your wardrobe and understanding just the right color for your feet is necessary. This helps to buy the best footwear for women a lot easier.
Khadim- Best Heels for Women
Talking of the best footwear category, it's important to choose the right brand that delivers the best to its customers. Khadim - a brand that has been a pioneer in the styling industry delivers a wide range of stylish and trendy heels for women at the best price. Not only are these of the best quality, but their different color options also make it difficult to choose just one pair.
So now's your time to go head over heels and add the best to your collection today as #ItsWOWItsKhadim.