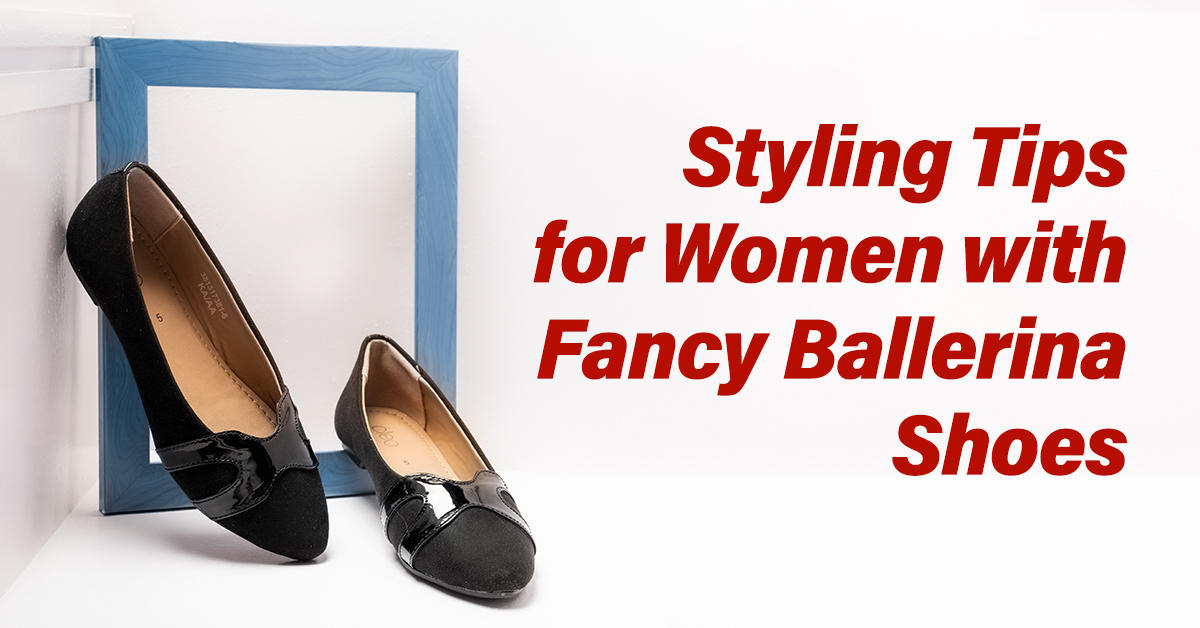 Styling Tips for Women with Fancy Ballerina Shoes
Comfortable. Versatile. Fashionable- this is precisely how one can categorize this pair. Ballerina shoes for women have been showcased to be a pair that adds a classy touch to your character. Originating from the slippers worn by ballet dancers, these are pictured to be a mandate in one's wardrobe. If you're thinking of a super-cool pair that can replace heels, this pair is the right fit for it. And here's why.
With every passing phase, fashion has just been getting better. Ballerina shoes for women have also been evolving to be ahead in style. Moving ahead of boring designs, this pair has made its way to blend well with any attire you put on. From basic workplace outfits to casual day outings, this pair helps grace your style with ease.
Yes, we do understand that there isn't any pair that can climb higher than a pair of high heels. But, looking classy in this pair does come with the pain of walking for long hours. Here's where the importance of women's ballerina shoes steals the spotlight. With unique designs to add to your personality, these shoes are designed to create a distinguished get-up that will never fail to impress.
Since these pairs have been the common talk point of late, all you need is some tips to stand out with this pair. Here's what we have to offer.
Tips to Ace your Look with Ballerina Shoes
For a Minimalist Look- Maxi dresses have been a common talk point nowadays. Along with wide-legged trousers, women's ballerina shoes help give you a perfect look for a carefree styling spree.

Take note to match your footwear with the base color of your outfit to help add a contrasting touch. Choose a light-colored pair of shoes if your business is vibrant and distinct.

For a Streamlined Match- A streamlined pair of footwear can be just the right alternative for a stylish pair of heels. Wearing a neutral-colored pair of flats with a simple/ belted dress can add the elegance you seek. Note that these shoes can also blend well with a pair of shorts or slacks.

For an Elevated Look- Even women love to look a little taller than they are. Nude-colored ballerina shoes are the secret you all need to know. Pairing these ballerina shoes for women with slacks of the same color helps you add the perfect blend that's difficult to differentiate.

For a Casual Attire- Do you prefer to wear a pair of boyfriend jeans or cropped pants? If yes, here's what you need to do. Roll up the hems to your ankle or by two to three inches. This will not only give you that elegant look but also helps show off a bit of skin, especially during the summer.

For the Best Workplace Look- Everyone loves to put on attire that helps them stand out from the crowd. From attending meetings to walking here and there, women's ballerina shoes help you walk without causing any discomfort to your feet. However, wearing formals with ballerinas is now in trend, especially a black or brown pair that helps give you a corporate and classy look.
Khadim- Best Ballerina Shoes for Women
Since the hunt for better footwear styles continues, end your search for the best ballerina shoes online in India with Khadim. Showcasing a variety of styling, unique, and WOW pairs, we bet you will find a pair that complements your attire.
So keeping the above-mentioned tips in mind, visit your nearest Khadim store or check out our online store for the best ballerina shoes.